More mundane things that make me feel wealthy:
Going to the Dentist.
I love going to the dentist. I know this probably sounds weird, especially to those of you who don't.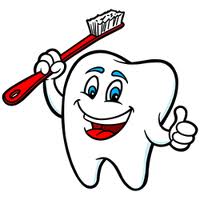 I didn't always feel this way.
I had orthodontics as a kid (thanks, mom and dad, for making sure I didn't look like a buck-toothed horse my entire life). So I've spent a lot of time enduring the discomfort of those cold, sharp, metal dental tools.
But after all the discomfort is the cleeeeeean.
To me, there is nothing like the feeling of ultra-clean teeth. I just adore that feeling.
And every time I lie in the dentist's chair I think about how many people around the world do not have access to dentistry.
This goes back to a documentary I saw once, about three farming brothers who had fallen on hard times. Somehow what stayed with me most about the film, even more than their wrenching story, was their broken and missing teeth.
The movie was definitely, unequivocally, not about their teeth.
But those teeth — they haunted me. I felt like "there but for the grace of god go I."
And in fact, there's really no reason that couldn't be me. It's just a happy accident that I was born into a different set of circumstances. One where my parents valued taking care of my teeth and had the means to do so.
Ever since then, whenever I visit the dentist I feel like one of the richest people in the world. Because you know what?
If I'm visiting the dentist, it means that I am.
Chew on that one for a bit, willya?
And let me know in the comments how dentistry and gratitude go together in your world.
xo,
mandy
PS  Special note for my dear friend Zack: teeth are teeth. No, teeth are bone. No… teeth are teeth! (I can't remember which is my side of the argument, only that I won. Or possibly that I lost, and claimed victory anyway.) Whatever the outcome, I'm sending you love over the miles. And a big, bright smile.