Get Smarter About What Matters
By Harnessing Your Full Intelligence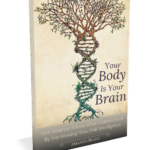 Around the world, a swelling tide of people are discovering an astonishing, life-altering truth: Your success and satisfaction in virtually every area of your life relies substantially on your body. This book tells their extraordinary stories:
how one man's rare recovery from colorblindness led to genuine intimacy
how a Microsoft executive grew her credibility by shifting her stance
how an anxious PhD student built his confidence by changing his workout
how back exercises helped one woman negotiate a fix to a botched home repair
how a team led their company to a 30% increase in valuation by dancing together
In this timely and engaging book, Amanda Blake synthesizes research from over two dozen scientific fields to reveal how you, too, can come to embody vital qualities such as these:
trust your intuition, make smarter decisions, and align with your purpose
become more relaxed, confident, and at ease in high-pressure situations
shatter limitations that have been immune to "the power of positive thinking"
create better relationships at work and at home
turn conflict into opportunity
Effective solutions to today's personal and societal challenges require more than just clever new ideas. We need leaders and everyday folks who truly embody a felt sense of interconnectedness; who have both the care and the skills to craft a life of meaning and act with responsibility to the whole. Your Body is Your Brain shows you how to build valuable life skills that will enable you to contribute, succeed, and enjoy life at the highest levels. This is powerful applied mind-body science, in the workplace and beyond.
Cool! Send me the first chapter.
cover art (c) René Campbell
Save
Save
Save
Save
Save
Save
Save